Farmhouse style White Brick
Farmhouse White Brick Look for Walls and Floors
Possibly one of the hottest design trends in general for 2020 is the farmhouse white brick look.  Our reclaimed thin brick veneer has been perfect for this trend, allowing the look of real, reclaimed brick to be installed with the simplicity of a cermic tile installation.   Antique brick, covered in limewash or white mortar, adds an old world charm and an almost etheral look to an interior.   


This is not a specific product per se, but a technique of coating the brick with limewash, or using a "German Schmear" technique of not cleaning the mortar off of the brick.  Typically this is being done with a white or ivory colored mason's mortar or sanded tile grout.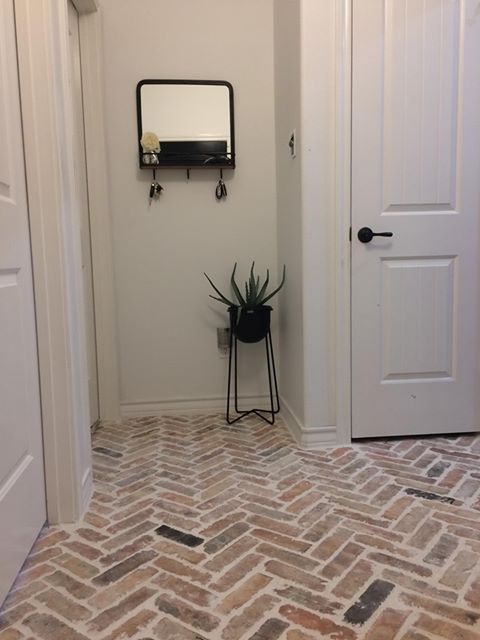 The white brick farmhouse look can be achieved with nearly all of our products, but the most popular has been our V-01 Chicago antique brick veneer tile.  These thin brick cut off the sides or real reclaimed Chicago common brick have a variety of colors that shows through the limewash or mortar perfectly to gain that unmistakeable antique look. 

  A simlar look can be achieved more economically using our QV-01 Chicago "queen veneer" thin brick, which is cut off the top and bottom of these same bricks after the sides have been cut off.  The added bonus of this product is that the tops and bottoms of the bricks would have makers marks stamped into some of the brick, so some of the thin brick will bear names such as "Chicago Brick", "Illinois Brick" or "I.B.C" amongst others.  For further pictures of installations using both of these products, please check our Bricksalvage Instagram Account tagged page

In the right interior and combined with white walls and cabinets, perhaps as a backslash behind a farmhouse sink, our reclaimed brick tile can be the perfect finish for your dream farmhouse interior.   Just be prepared to live in a space that creates a little bit of heaven on earth.